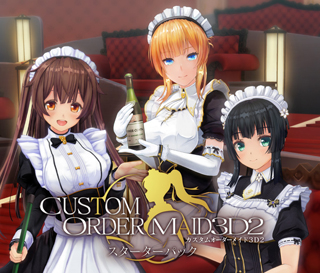 You can choose the next upcoming DLC Personality! You can vote once per day. Poll will be closed in 2 weeks,
November 16th!
http://com3d2.jp/enquete/02_personal/
- Mother-like Young Mama Girl (母性的な年下ママ少女)
- Little Animal-like & Fluffy Little Sister (小動物系ふわふわ妹)
- Stupid and Cheeky Young Gyaru (おバカで生意気な年下ギャル)
- Wary but Very Untouchable (警戒心が強い不愛想)
- Domineering & Feisty Mistress (高飛車で生意気なお嬢様)
- Strong-Minded Amiable Elder Sister (男勝りな優しいお姉さん)
- Super Wicked (Mean) Girl (超腹黒な少女)
- Unexpectedly Obedient and Naive Delinquent Girl (意外と素直な純情不良少女)
- A Girl Who Tend to Give Self-Satisfying Look (すぐ調子に乗るドヤ顔系女子(土屋よし子性格))
- A Dependable Maid Secretary with A Mature Composure (大人の余裕を持つ、頼れるメイド秘書(メイド秘書性格))
Choose wisely!
Last edited: